5 ways to make your smile even more beautiful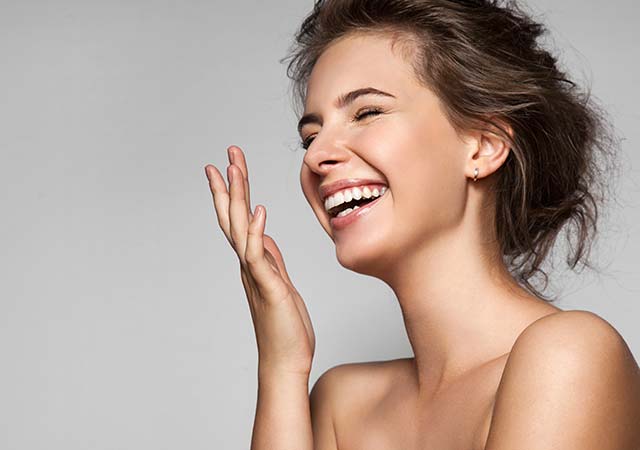 As the holiday season approaches, it's likely that you'll be attending a number of social events.
If you're concerned that your smile is not quite picture-perfect, consider a cosmetic treatment designed to make you smile from ear to ear. Whether you have a minor imperfection that's bothering you or are looking for a more dramatic change, we have a number of procedures that could work for you …
Consider a whitening treatment
Most people could do with a bit of brightening when it comes to the colour of their teeth, and fortunately, it's now quick and easy to achieve beautiful, natural-looking results. We offer both at-home tray bleaching and an in-office treatment, so you can choose the process that suits you best. If you opt for at-home bleaching, you'll use custom-made trays that are individually fabricated to perfectly fit your teeth. A small amount of bleaching gel is applied inside the trays, which you will need to wear over your teeth for between 15 minutes and 1 hour for 10 to 14 consecutive days. If you decide to come in for an in-office treatment, you'll need to come for an appointment of just over 1 hour. We'll use a combination of lighting and hydrogen peroxide to lighten your teeth by up to 10 shades.
Repair a gummy smile
If you feel that you show too much gum when you smile, you might consider a laser gum lift. Sometimes, the issue can even be resolved with a simple muscle relaxant injection, which works by reducing the pull on overactive facial muscles and allows the lip to sit more naturally over the teeth. This procedure only takes around 10 minutes, and the results last for up to 4 months. If this is not an appropriate treatment for you, a laser gum lift may be a better option, in which case a special laser is used to remove excess gum tissue. The procedure is highly effective because the laser actually reseals the soft tissue of the mouth almost immediately.
Mask your imperfections
If you have minor aesthetic flaws, like chips and cracks, discolouration and stains, unwanted gaps between the teeth, and unevenness, composite bonding could be a viable solution for you. The treatment is fast and effective and involves the application of a tooth-coloured resin to the outside of the tooth to improve its shape and/or colour. Unlike porcelain veneers, composite bonding requires little tooth preparation and the procedure can often be completed in just 1 visit to the dentist. The bonding material is made from high-quality composite resin, which can last up to 15 years. We do, however, recommend that you come in every 6 months for a professional clean as the resin can become discoloured and stained over time.
Get rid of minor flaws
One of the ways we are able to instantly treat minor flaws like crooked, chipped, or cracked teeth, is by performing a tooth contouring procedure. During the procedure, we'll highlight the areas that need sculpting, before contouring the teeth with the use of dental instruments and abrasion techniques. Imperfections on the surface of the teeth are carefully minimised, or in some cases, completely eliminated. The teeth are then smoothed and polished. Dental contouring is a great option for patients who need small repairs done, and would like to simply get rid of a small imperfection or two.
Improve the appearance of your skin
While your oral health is our priority, we understand that a beautiful smile doesn't stop at your teeth. For this reason, we offer a number of skin care treatments, including anti-wrinkle injections and dermal fillers. We are also able to perform computerised skin analysis using our Visia machine, which can capture and analyse skin conditions. Our facial consultant is happy to recommend appropriate skin treatments and products, based on the results of your analysis. All of our products are prescription grade formulas that target all mechanisms of skin health — the perfect way to complement your beautiful, healthy smile!  
If you're interested in improving your smile in any way, have a look at the full list of cosmetic treatments that we offer here. We take a genuine interest in cosmetic dentistry and the art and science of achieving a beautiful smile. For more information, or to book a cosmetic dentistry consultation, please get in touch with us.