Dr Bob Gibbins, BDSC (HONS) QLD
Dr Bob Gibbins, BDSC (HONS) QLD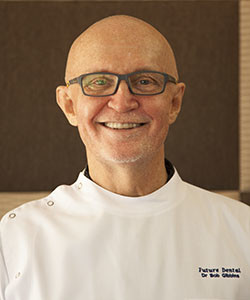 Dr Gibbins graduated with Honours in 1972 from The University of Queensland and had some four years or so in the Military practicing all over the East coast of Australia and PNG. In 2021, Dr Gibbins celebrated 50 years as a continuous member of the Australian Dental Association.
Since opening Future Dental in 1976, Bob's main focus has always been to provide his clients with exceptional service and high standards of dentistry.  He has a high level of experience and expertise in all areas of Cosmetic and Reconstructive Dentistry, and it gives him enormous pleasure to transform his patients' lives by enhancing their smiles.
As a father of 5 and grandfather of 3, he has always held a keen interest in Family Dentistry and Preventative Dentistry.
Bob's belief has always been to learn from the best possible teachers and mentors anywhere in the world and that it is difficult to perform great dentistry without the most up to date and highly technical equipment.
His other interests include family, fishing, boating, watching basketball and he has a black belt and is still participating in karate.