Our Team
At Future Dental, we are committed to your dental care
Future Dental's team of dentists and oral health care professionals provide caring, personalised care for all of your dental needs. We have been providing excellence in cosmetic and family dental care in Cairns since 1976 and stay abreast of the latest industry trends and technology to deliver you the very best service.
Dr Bob Gibbins, BDSC (HONS) QLD
Dr Bob Gibbins, BDSC (HONS) QLD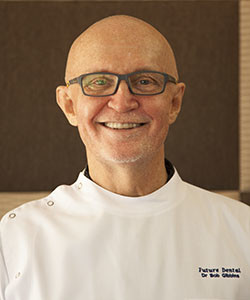 Dr Gibbins graduated with Honours in 1972 from The University of Queensland and had some four years or so in the Military practicing all over the East coast of Australia and PNG.
Since opening Future Dental in 1976, Bob's main focus has always been to provide his clients with exceptional service and high standards of dentistry.  He has a high level of experience and expertise in all areas of Cosmetic and Reconstructive Dentistry and it gives him enormous pleasure to transform his patients' lives by enhancing their smiles.
As a father of 5 and grandfather of 3, he has always held a keen interest in Family Dentistry and Preventative Dentistry.
Bob's belief has always been to learn from the best possible teachers and mentors anywhere in the world and that it is difficult to perform great dentistry without the most up to date and highly technical equipment.
His other interests include family, fishing, boating, watching basketball and he has a black belt and is still participating in karate.
Dr Abhay Gupta
Abhay is an Australian dentist that graduated with a Bachelor's of Oral Health and Graduate Diploma from the prestigious Griffith University. He has been actively working to improve the health of remote indigenous communities and rural centres where his relaxed, easy-going nature and tongue-in-cheek sense of humour has helped relax his patient base. Seeking to live closer to the coast and expand his skill-set he has decided to settle down in Cairns with Future Dental.
Abhay spends his spare time working on old 80s/90s Japanese sports cars. He listens to podcasts and audio-books relating to health, nutrition, philosophy, psychology, neuroscience, economics, history, politics, martial arts and technology.