What does dental cleaning involve?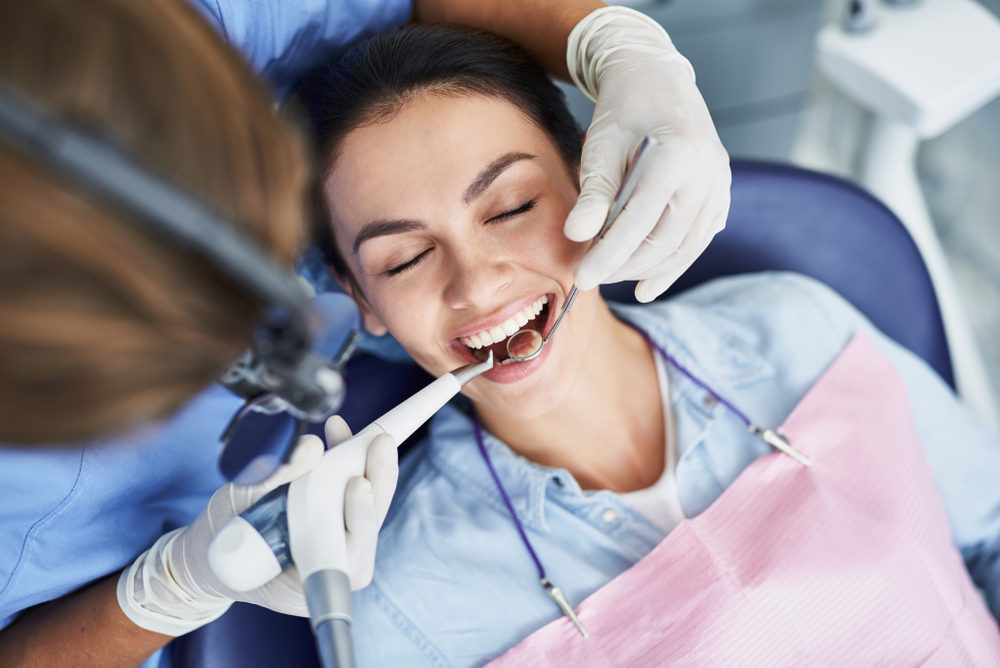 Regular professional teeth cleaning helps to maintain optimal oral health.
If you see your dentist for regular check-ups, it's likely that you have had your teeth professionally cleaned numerous times before. But, if it's been a while since your last dental visit and you would like to get your oral health on track, you might be wondering what you can expect from the dental cleaning process. Read on to find out more about the procedure, so that you can feel informed and more at ease at your next appointment…
1. Start with a physical examination
In most cases, your dentist will recommend that you have a full oral examination performed before you have your teeth cleaned. During this process, your dentist will examine your teeth and gums to check for any potential issues, such as signs of gum disease or tooth decay. If any problems are identified, your dentist will let you know what the best course of action is — most often, the treatment itself will be scheduled at another appointment in the future.
We are looking for periodontal pockets around your gum attachment. If they are present, a significantly deeper cleaning process is required that is above the normal cleaning fee. If the pockets are deep enough, it becomes the job of a specialist Periodontist to manage. If the proper treatment is not given, the life of these teeth may be greatly shortened.
Pockets occur when the attachment of the gum and bone to the teeth is eroded from the destructive periodontal disease and are irreversible unless the periodontist can commence a certain technique called LANAP (Laser Assisted New Attachment Process). If periodontal pockets are found, a full-mouth X-Ray called an OPG is needed to see the level of bone loss that has occurred.
Find out more about what happens during an oral health exam!
2. Get rid of plaque and tartar
Some patients ask us for the fees for cleaning before we have seen them and, as you will see from some of the factors mentioned below, it is impossible to give an accurate answer until we see you. All we can do is give the typical fees of those with no deep gum disease and who come in their regular examination and cleaning visits every 6 months or so.
If you are one who have found that scaling the teeth is very sensitive, it is highly advisable to use a desensitising toothpaste every time you brush for at least 2 weeks before your cleaning visit.
Sensitive teeth can be caused by a number of things and your examination would cover that, so please mention it.
Once your dentist is ready to begin the cleaning process, they will start by using a tool known as an ultrasonic scaler to remove any plaque and tartar that has built up between your teeth and along your gumline. If your scaling is likely to be very sensitive, we may advise to do half of your mouth in a session using Local Anaesthetic and doing the other side on another day. It is obviously significantly more costly, but gets the cleaning done far more comfortably.
At times, all the teeth can be cleaned using a thick Local Anaesthetic gel that is run around the gums first. It costs a little more, but many find it really helps.
While regular brushing and flossing helps to keep plaque at bay, if plaque is left to accumulate and hardens into tartar, you will have to have it professionally removed as it is not possible to do so at home.
3. Get a high-power clean
When your dentist has removed all the tartar from your teeth and gums, they will clean your teeth with a specially designed high-power brush. This brush will give your teeth a deep clean and remove any plaque and stains that may have been left behind after the scaling process. Extreme stains sometimes require the use of an Prophy Jet, Air Polisher. It is a bit more expensive.
When cleaning your teeth, your dentist will use a gritty toothpaste that polishes the surface of your teeth, which will leave them looking and feeling fresh.
4. Rinse your mouth
After your teeth have been thoroughly scaled, cleaned and polished, your dentist will ask you to rinse your mouth. This will help to get rid of any leftover debris. Sometimes, the rinse with which you are provided will include fluoride.
Your dentist might then offer you the option of a fluoride treatment, which can be helpful in strengthening the enamel of your teeth and preventing tooth decay. If you choose to go ahead with a fluoride treatment, the fluoride will be applied to your teeth in the form of a gel, varnish or foam in a simple and pain-free procedure.
How can we help?
At Future Dental, we believe that oral hygiene is an extremely important part of keeping your natural teeth for life. For this reason, we offer a range of dental hygiene services including cleaning and scaling of the teeth in order to remove all plaque and tartar.
We also remove surface stains from the teeth and polish fillings and crowns. We encourage our patients to come in and see us for a routine dental check-up and clean every six months so that we can help to keep your oral health on track and identify any issues before they become more serious.
The Future Dental team is also available to provide you with instructions regarding correct brushing and flossing techniques, as well as dietary advice and counselling to reduce oral disease. If you have any questions about your oral hygiene routine, or your oral health in general, we encourage you to come in and see us and we will be happy to help.
Dental Check Up and Cleans in Cairns
If you would like to find out more about the dental hygiene services that we offer at Future Dental in Cairns, please have a look here.
If you would like to come in for a consultation, please contact us here or give us a call on (07) 4051 4580. We look forward to welcoming you to our practice in Cairns.