Is your baby having problems latching on to breastfeed? We may be able to help!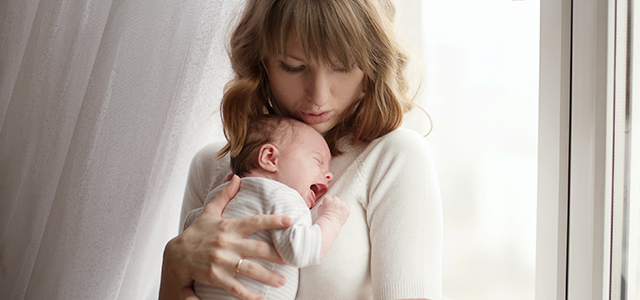 Tongue ties and lip ties are a congenital condition in which a piece of connective tissue is too short; in lip ties this is the tissue attaching the lip to the gum, and in tongue ties it's the tissue connecting your tongue to the floor of your mouth.
When there is a tongue tie present, a baby will not be able to suckle properly as he or she is unable to reach their tongue to the roof of their mouth, restricting their ability to swallow normally. Lip ties can have an impact too; it means the lip cannot properly seal around either the mother's nipple or, in the case of bottle feeding, the teat.
Both these conditions can have a serious impact on a baby's ability to get enough milk, and can present a range of symptoms including:
Struggles to get your baby to latch
Colic or excessive reflux
Below average weight gain
Bad gas for baby
Discomfort during feeding for the mother
Sore, cracked or bleeding nipples for the mother
By addressing the lip and/or tongue tie, the baby will be able to get enough milk during each feed, and the previously discontented baby can very quickly become much happier.
How can lip or tongue ties (Ankyloglossia) be treated?
Modern medicine is an amazing thing, and it's now possible to treat lip and tongue ties with a laser at all ages.
Future Dental is pleased to be able to offer this treatment, however it is a lot easier in fairly new born babies up to 6 months or so and kids over 6 years of age.
Your doctor, mid-wife or Lactation consultant may diagnose an anterior or posterior tongue tie or upper lip tie. The best qualified person to diagnose these problems is an IBCLC (International Board Certified Lactation Consultant) or a dentist with broad training and experience in these problems. Dr Gibbins has been treating these problems by laser since 2003 in all age groups.
We invite you to consult with your IBCLC and even have them attend your visit for the procedure or diagnosis with us.
There are times when Dr Gibbins advises no release of these lip or tongue ties are required. Listening just to your FaceBook friends may not inform you correctly if baby actually has a problem that is due to a tongue or lip tie and we quite frequently see babies where Mum may think babies' feeding problems are related to a lip or tongue tie but actually the problem may be of a different cause. That is why we advise you to speak to your paediatrician, IBCLC, Dr Gibbins or your midwife before asking for a release of a tie. Only an expert can tell if a normal anatomical frenulum is a problem or not and the Assessment Tool for Lingual Frenulum Function (ATLFF) is the basis for diagnosis.
Some GP doctors, Paediatricians, mid-wives and Lactation consultants may use scissors and some surgeons use a scalpel.
Future Dental exclusively uses the Waterlase Laser for these procedures.
This laser is by far the gentlest and safest technique with virtually no pain, bleeding or post-operative swelling , no stitches required and most rapid healing. Baby can feed immediately after. The laser also sterilises the surgical site as it works so post-op infection is rare.
Our Waterlase MDX is the gentlest of all laser wavelengths to use and causes no tissue charring like a CO2 laser and is virtually painless for baby. It is also the safest for eyes with a very short Nominal Ocular Hazard Distance compared to other laser wavelengths where use of specific wavelength filtering protective glasses for all in the room is mandatory. It is the cleanest cutting laser and in almost all cases baby does not react at all to the actual laser release procedure but just complains about Mum or Dad swaddling them up in a blanket to hold little arms clear. While we have several Diode Lasers also which can do the same thing, the Rolls Royce of lasers for these procedures is the Waterlase. We use this one exclusively for lip and tongue ties.
Newborn infants to one year of age.There is a short window of time in which an infant can be treated through the use of our Waterlase MDX laser. Up to 1 year of age, most Anaesthetists will not perform a general anaesthetic (GA) and will ask to wait until the child is at least a year old. It is mostly in the first few months of life where feeding problems for both baby and Mum occur and in this age-group,  a GA is just not an option.
After  12 months it will be easier for a GA and we will refer you to the best qualified dentist.
As such, if you're experiencing these symptoms with your newborn, we'd encourage to seek our help as quickly as possible!
1 to 6 years old: After 12 months of age and up to  age 6, it's much easier for the procedure to be done using a laser again, but under a general anaesthetic. We will refer you to the best qualified in Cairns for this procedure under GA.
6 years plus: From the age of 6 it is again possible for us to treat this condition with the laser in our office under a local anaesthetic.
Adults at times will also require a release of tongue or lip ties for problems with gum problems, tooth crowding or Obstructive Sleep Apnoea.
If you think you or baby has a Tongue or Lip Tie, please ask us to assess it.
Lip tie and tongue tie treatment Cairns
If you would like to request a lip or tongue tie consultation with us, please contact our friendly team today!