Cfast braces Cairns
Achieve straight teeth fast with minimal sensitivity and discomfort
Unlike traditional braces that can take up to two years to complete, the Cfast treatment can be completed in less than half that time. This is an innovative orthodontic treatment, specifically designed to move teeth fast and efficiently with gentle force. They are faster than traditional braces because of the patented, unique technology purposely devised to provide faster results.
In general, Cfast is only used on the front six to eight teeth – the teeth that show when you smile – so it must be noted that they do not treat major orthodontic issues. Instead, Cfast is a minimally invasive cosmetic treatment that corrects alignment issues with the top and bottom front six teeth, and can level and round out the arches.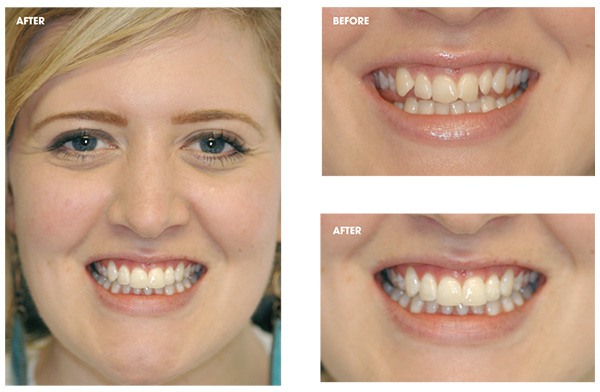 Cfast uses clear orthodontic brackets and tooth-coloured nickel-titanium wires. The treatment works much like that using clear aligners but more than twice as quick. The wires put gentle pressure on the brackets to level and align the teeth with close to minimal discomfort to the patient. With the clear brackets and tooth coloured wires, Cfast is barely noticeable and worn for only a fraction of the time compared to traditional braces.
Your smile will be straightened in as little as six months
Discreet with wires and brackets that are almost invisible
High-quality components designed for optimum comfort
Quick treatment means lower costs
This flexible and fast system will help you get the straighter teeth you've been dreaming about faster. Since Cfast focuses on your front teeth, it's the perfect option for patients wanting a straighter smile but don't want to or don't need to through a complete traditional orthodontic treatment.
FAQs
What are Cfast braces?
Cfast braces are an innovative orthodontic treatment that are designed to straighten the teeth faster than traditional braces. Cfast braces work by applying gentle but efficient force on the teeth to provide a fast-working straightening treatment. Generally, this kind of treatment is only used on the front six to eight teeth, so is often ideal for cases where it is necessary to straighten only the teeth that are visible when smiling. Cfast is not recommended for the treatment of major orthodontic issues, but is used instead to correct minor alignment issues affecting the top and bottom front teeth.
Do Cfast braces look like traditional metal braces?
No, Cfast treatment actually makes use of clear orthodontic brackets and tooth-coloured nickel-titanium wires. For this reason, Cfast braces are barely noticeable, making the orthodontic treatment a very discreet option. They also cause minimal discomfort to the patient because they are made with high-quality components and designed with optimal comfort in mind. Another benefit is that the braces are worn for a fraction of the time compared to traditional metal braces. In fact, it is possible to complete the treatment in as little as six months in many cases.
What is Digital Smile Design?
Digital Smile Design is an innovative piece of dental technology that enables patients to visualise and modify their smile with the use of a computer. The computer technology makes use of digital imaging, photography and videography to let you see what your future smile could look like. It's a great way for us to plan a suitable treatment and for our patients to design their own smile and really visualise the results of various treatments. The digital technology also gives patients the chance to make changes and reconsider treatments before committing to anything.
Cfast Cairns
Future Dental is the only dental practice to provide Cfast braces in Cairns and we are proud to be able to provide our patients the latest technologies and most modern treatments. This means that we are able to cater for as many patients as possible, whether they need a more complex treatment plan or just a minor improvement.